Bath bomb boxes are made for keeping bath bombs, which are a huge trend these days. They are all over the Internet as people use them during their relaxation time, these days. When they get wet, they give off a nice smell and that is what relaxes most people. There are plenty of videos on the Internet of bath bombs, which is enough to prove that they are a huge thing nowadays. Along with making the bath time relaxing, bath bombs also provide the skin with essential oils since many of them are added to the mixture of bath bombs.
What are bath bombs?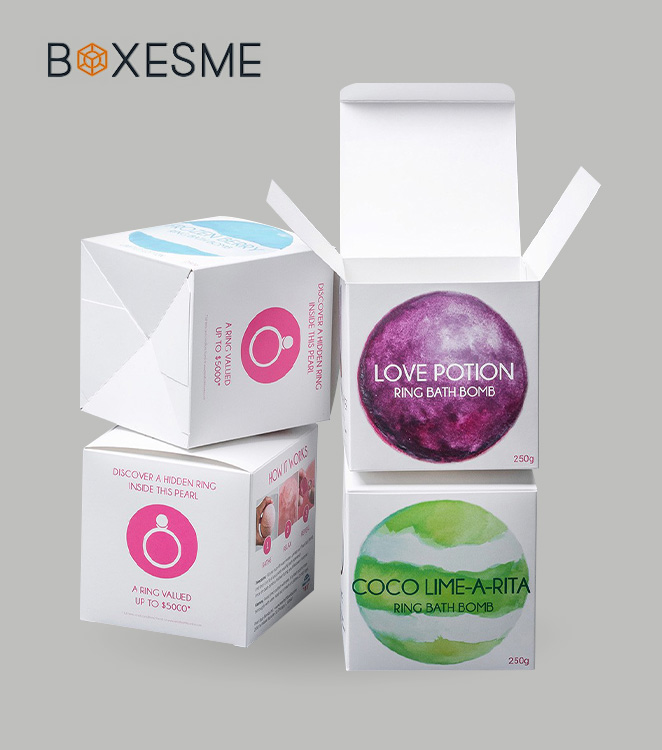 Bath bombs are mixtures that are solidified. They are packed in hard form. When they get wet, they give off effervescence. You can get them in custom bath bomb boxes or in bath bomb packaging that is chosen by the specific company. Using bath bombs, you can add color to your bathwater, which is something that people who love to take pictures will find very amusing. At the same time, bath bombs are also used to add a scent. This helps in making the bath very relaxing. If you come home from a long day at work and you are looking forward to relaxing, you can simply put a bath bomb in your bath water and have the time of your life. Another benefit of bath bombs is that they also add essential oils to water. So, you can get the benefits of peppermint oil, lavender oil and other skin-nourishing oils through your bath.
How are Bath Bomb Boxes Packed?
Bath bomb packaging is done in a certain way to make sure that they do not break in the box. Using custom bath bombs boxes, you can plan beautiful gifts for people you love. There is a new trend of giving bath bombs as gifts in a basket containing the bath supplies. For making the gift appear aesthetic and beautiful, bath bombs are packaged beautifully.
Bath bomb Packing makes the whole gift package look so much prettier and professionally arranged. Also, this packaging can be later recycled by the person who is receiving this gift. The bath bombs are not packaged in sturdy boxes, most of the times, since they do not spill. They are hard in nature so they can be packed in crepe paper or anything wrapping paper for good presentation.
What is the Composition of Bath Bombs?

Bath bombs are made up of acids and bases. The based used for making bath bombs is normally a bicarbonate while a weak acid is added for the fizzing effect. Since two such ingredients are present in bath bombs, they give off whizzing and fizzing when you put them in water. When the bath bombs are dry, they do not react at all with anything. However, when they are added to water, they react and produce the fizzing sound. This last for a few minutes. So, the initial few minutes of your bath will be full of action and excitement.
Some other ingredients can also be used in making of the bath bombs. The most common add-ons that are used are essential oils or a dye. They help to produce a pleasant smell when the bath bomb gets into water and create a beautiful color. Some bath bombs also produce bubble foams and these are produced due to addition of lathering agents like sodium lauryl sulfate in the mixture. Many people bring bath bomb packaging supplies at home and make their own packaging. While some people use the bath bomb packaging supplies for making gift wraps, there are others who make the bath bomb packing for keeping their stash of bath bombs nicely arranged in their shower caddy.
Are bomb boxes spherical?

Most of the times, bath bombs are spherical in shape so the bomb boxes also have to be the same shape. They can also be found in other shapes such as in form of lumps. For bath bombs shaped differently, square bomb boxes can be used or bath bomb boxes can be made. There are many custom bath bomb boxes manufacturing companies available that do the job for you.
In companies, bath bombs are made in different shapes and sizes. Companies have machines that can make hundreds of bath bombs in just an hour. So, their production rate is high. When making bath bombs at home, you can choose the size and shape.
Health Concerns of Bath Bombs
The acids and bases that are used in making bath bombs are not very strong so they do not have a negative effect on the body. However, other additives are also present in many bath bombs and these can cause irritation. For example, the dye or lathering agent present in the bath bomb can cause skin irritation for some people. Most of the time, bath bombs are tolerate by people.
Bath Bomb Display Boxes for Shop
There are many online and physical shops that are selling bath bombs. The sales are huge since many people are buying the bath bombs these days. These shopkeepers need boxes for their product. Using bath bomb packaging supplies, bath bomb boxes can be made at home or you can get them made from any company that is specialized in the job.
Custom Bath Bomb Boxes Wholesale
If you want to get bath bomb packaging, you can get them from BoxesMe which is a custom bath bomb boxes wholesale company operating in different countries of the world. The company specializes in making bath bomb display boxes for shops and bath bombs packaging for personal use. Since there is a lot of environmental awareness these days, the bomb boxes are environment friendly.
The company makes boxes of many shapes, such as square and rectangular. Along with that, they also make boxes that come with a bottom closure and boxes that have a top closure. For getting beautiful and gift-worthy bath bomb packing, you can contact the company and get their services.